You may contact me via email or phone to inquire about purchasing an item. I offer a 48 hour refund policy should you decide to not keep the item.
Tom Camp
763 755-6532
tom@billcampbanjos.com
I have chosen not to use an online system for instrument sales as I have found that vintage instruments and collectibles usually require more attention than "click and ship" can provide. For instrument purchases I will furnish you with wire transfer routing and account information so you can wire funds directly. Sorry, I don't accept PayPal payments for instruments.
---
Cashiers checks and Money Orders will be processed with a 1 week waiting period.
I accept wire transfers with no waiting period. Contact me for routing and account information.
---
I ship instruments and other items on a 48 hour approval basis once we verify payment in full (check, credit card, etc.). Shipping charges and taxes are not included in the prices listed. Mail order shipments within Minnesota are subject to sales tax of 6.5%. Shipments out of state are not subject to MN city and state tax, although the buyer assumes all other tax requirements of their municipality. We ship within the United States via US Postal Service. Before sending payment, please call to confirm the instrument's or part's availability and the cost of shipment.
If you decide not to keep an instrument or part shipped to you, please notify me by telephone or email within 48 hours of receiving it. I'll take note to expect the return. Please ship it in the same carton via Fed-Ex or UPS, insured for its full value. I will refund the price of the instrument as soon as I receive it, provided it arrives in the condition in which it left my collection. The customer is responsible for all shipping charges.
Click for my
auctions on

---

Take 2 days to decide if its right for you...
---

Purchase parts online with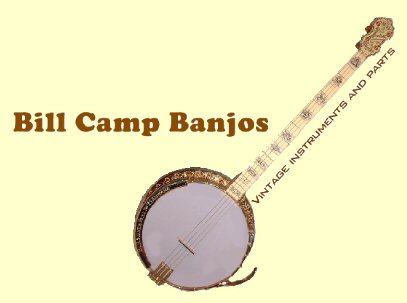 Tom Camp
(763) 755-6532
Banjos | Guitars | Mandolins | Harp Guitars | Parts | Cases | Shipping | Contact
Website creations by Woodcrest Web Design